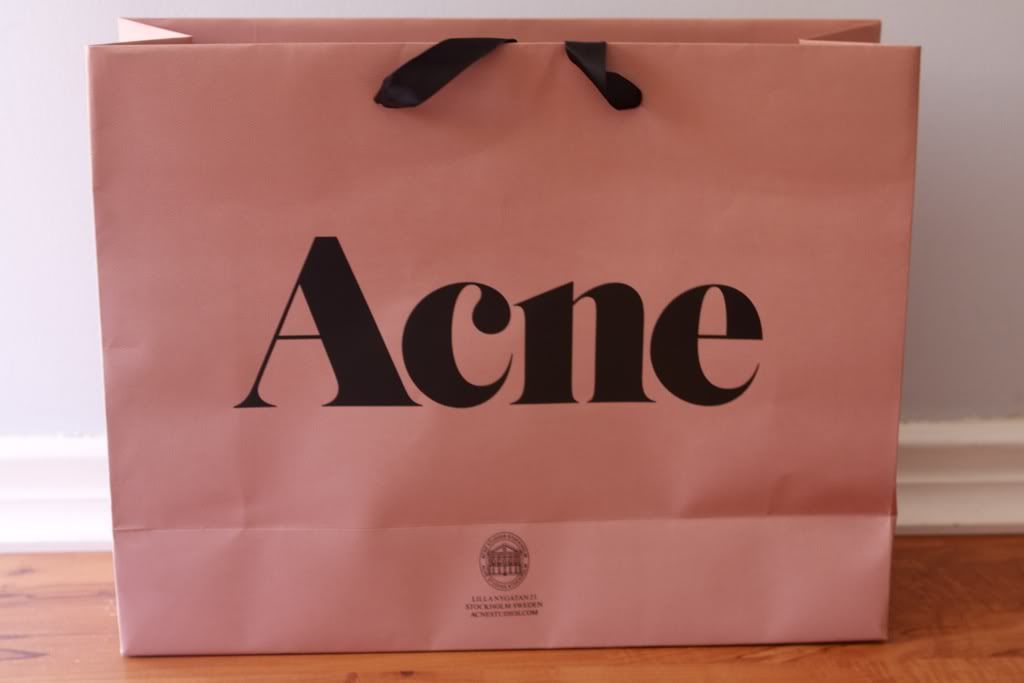 Judge me all you want. Buying a knit in the middle of spring. Unheard of? I admit I have a terrible knit/ jumper obsession.
The token pink Acne bag finally graces the pages of my blog. And it almost didn't happen. I had to ask the sales assistant to give me the paper bag as she was stuffing my purchase into a plastic one. Sorry but I just spent $290 at your store, does that not warrant a paper bag? But we got there in the end. And now I am the proud owner of the Ruthy jumper - the little sister of the Ruth Twisted jumper. The navy and grey one you've probably seen on many bloggers (Fashion Toast, AfterDRK).
I was actually tempted to buy the Ruth earlier this year but I didn't have the money, then by the time spring rolled around I thought it best to leave my winter purchases until next year. But
Japan early next year means I get to experience another winter so I need more knits and I also jumped at the chance to house limited edition Acne x Daniel Silver piece. I love the pop colour, the fact it has cropped sleeves (which I'm still trying to get used to) and the fact not many people will own it (hooray for being different).
Speaking of, I really love the combination of Acne and Daniel Silver. Collabs between fashion labels and artists can either be really bad (hello Something Else x Ken Done) or really good, to which the Capsule Collection is the latter. Take the simplicity of Acne designs and the colours, textures and artwork (most of which is heavily influenced by Africa and tribal designs) of Daniel Silver and you have one stellar collection. The colours and prints are out of this world and not your typical Acne-esque look, but the two mesh together too well. My favourites are the black gradient leather jacket and the navy and white print on the wide leg pants. It's p
erfect harmony and a perfect partnership.
Check out the A/W Capsule Collection here.