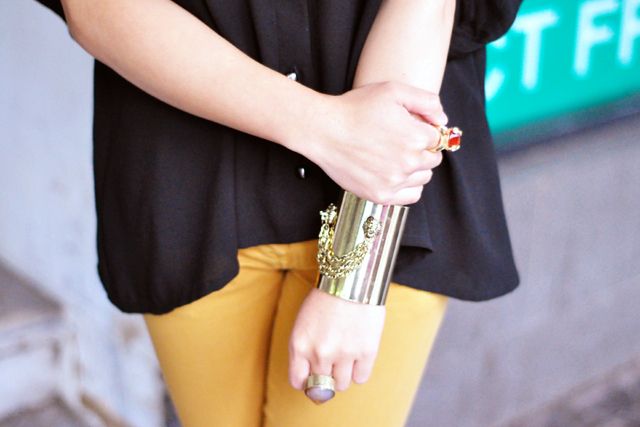 On my first day at Samantha Wills, Becc (PR manager) told me I'd be helping her out with the planning for the A/W 12 media showings. About 5 months later, hours spent googling venues, sourcing props (including old frames and chandeliers), getting quotes from print and framing places, prepping the guestlist and brainstorming concepts, it all came down to an hour session with key media and bloggers. It's crazy to think that after all that attention to detail most people were only there to take it in for 20 minutes.
The finished product came out incredibly beautiful - an empty warehouse space transformed into an art deco, vintage chic, decadent setting which complimented Samantha's A/W collection, In Residence (
Dans la R

é

sidence), inspired by her time at the Chateau Marmont. Having had the privilege of previewing the collection, and even wearing a few pieces myself, it's so different to any SW you've seen before. Darker tones, rose gold, more burnished golds and gunmetals as opposed to the bright stones, turquoise and peach palettes that are in her current summer collection.
Getting to see it all come together from start to finish is extremely rewarding. When we first started working on the event, I had no idea what it should look like let alone what it would actually turn out to be. This morning I worked the front door for an hour and a half wearing platforms (consider me a bouncer now), greeting the guests, quietly envious of the well dressed mag girls. Not fair to dangle a 2.55 Chanel + Alexander Wang Emile tote in front of me. A little sad I didn't get to mingle downstairs with everyone else but I have now managed to put faces to names. Oh and a mag girl remembered me from the last showings. Yeah, moving up in the world!
The highlight of my day was meeting Nicole from Gary Pepper Vintage, who was extremely sweet and very humble. I also ran into Jess (jesslovesfred), Nicole (confidentliar), Sophia (moulinfrock) and Kristal (thegypsyandthefox) at Pitt St who I had a nice chat with and went speed shopping at Sportsgirl - made up for the time we could have been talking at the showing.
Now to earn some well deserved sleep. Another day at SW tomorrow. And then Friday iPhone 4S launch. Get excited!