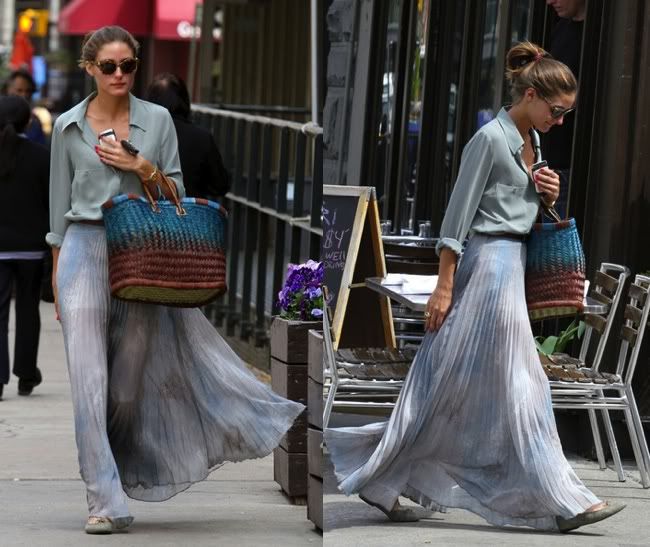 I must love this skirt so much that it's making it's second appearance on my blog, the first was seen on
Andy T
and again by trend setter and H.B.I.C Olivia Palermo. I'm still undecided about this girl, I honestly couldn't stand her in the City because I've always been Team Whitney and the fact that she had such an amazing job at Elle but did nothing to prove that she should have ever gotten the position in the first place, but who can deny her amazing styling and wardrobe? She's just that girl you love to hate and hate to love.
Here she is floating around in the Skeleton Maxi from Topshop on two occasions (sadly for me, the skirt is sold out online), once at London Fashion Week earlier this year and again out about in the streets of New York. Personally I love the second look much better, with the subtle neutral khaki shirt and matching flats. Even her woven bag is an extension of the maxi, the blues and browns a more vibrant exaggeration of the colour palette.
This is one of those times where relaxed casual day looks (which probably took her about 10 seconds to throw together) outdo night ones.
I love it because it's just so simple, chic and effortless and it incorporates my two favourite trends this season: button up shirts and accordion pleat skirts.
I also like that she's not afraid to get snapped in the same thing twice - although who wouldn't want to show that skirt off?
Like I've said before, it just brings them a little more down to earth (and totally kills my idea of celebs having the ability to wear things once and then throw it out) and closer to us 'normal' people who don't have the luxuries of wearing something new everyday.
Follow my blog with bloglovin