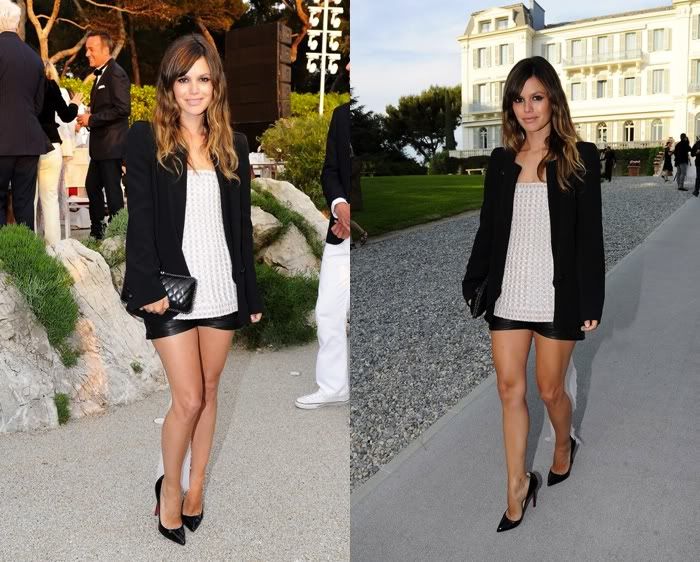 If you're not a fan of Rachel Bilson, I suggest you avoid this blog because in due time it will become a Rachel Bilson fest. She's my style idol and still very much the Summer Roberts I fell in love with all those years ago (for all you O.C. fans still out there). I can never fault any of her outfits, day to day wear or event style. I love that everything she wears is extremely easy chic and minimalistic with hardly any prints or patterns. Instead she opts plain coloured or neutrals with the occasional pop of colour in the form of a blazer, bag or shoe. My fashion manifesto has always been simple is best, and the reason why I love Rachel is just because of that.
Rachel made an appearance at Chanel's Cruise Collection 2011 - 2012 show in
Cap d'Antibes, France in a white pearl top and leather shorts teamed with a black blazer for that ultra classic chic look. It totally looks like she dressed for the occasion because the Chanel collection was all back to basics in black and white (I suppose Karl must have styled her himself, what with the two being so tight and all). She's topped it off with Loubotin pumps and of course a timeless Chanel clutch. Yet another flawless look to add to the book.
And here she is at a party hosted by Karl Lagerfeld a few nights ago. Lusting over the apricot boater hat and the grey jacket underneath all black. Love how she can pull off the vintage indie 'i'm just naturally this stylish' look one night and go classic Chanel chic another.