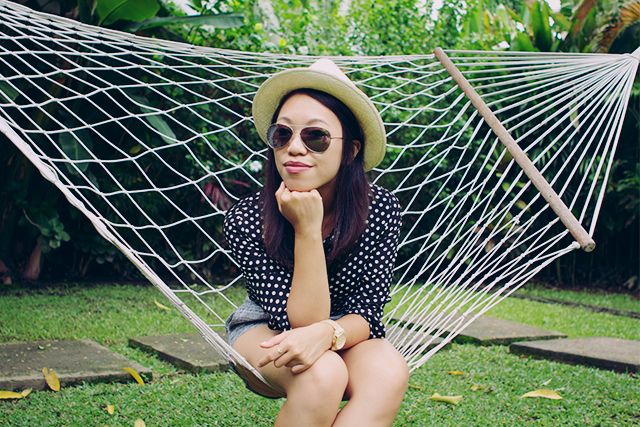 My faithful panama hat. I built up its title as the perfect accessory for a beach holiday and I couldn't have been more right. Though these mirrored aviators from
Sunglasses Shop
could give them a run for their money (check them out for some sweet shades from your favourite brands including RayBan, Celine, Miu Miu and Oliver Peoples). Day 1 in Bali was a visit to
Waterbom water park
followed by picturesque views of a hidden behind the clouds sunset at
Potato Head Beach Club
from our dinner table. We snapped these up before heading out at our
Villa Coco bungalow
. But seriously, when was the last time you sat in a hammock? Despite the fact they make your thighs look like leg hams (don't mind me) and are extremely unflattering to get into and out of, our hammock was a great addition to our own little garden. Had it not been for the swarms of mosquitos, sticky humidity or my sweet tasting blood I would have spent more of my time outside
swinging
my cares away.
I'm back from Bali though not well and truly - currently suffering from post holiday depression while trying to enjoy any last amount of freedom I have before I start my final year of uni. I have a couple more Bali outfits and photo diary posts up my sleeve so you can expect me to be pining over how much I miss that place for a little longer.
PS. Hair isn't purple, it's just the editing. Though now I wish it was.
Photos by Debra Navaratnam. Girl has an eye for a good shot. Hello new blog photographer!