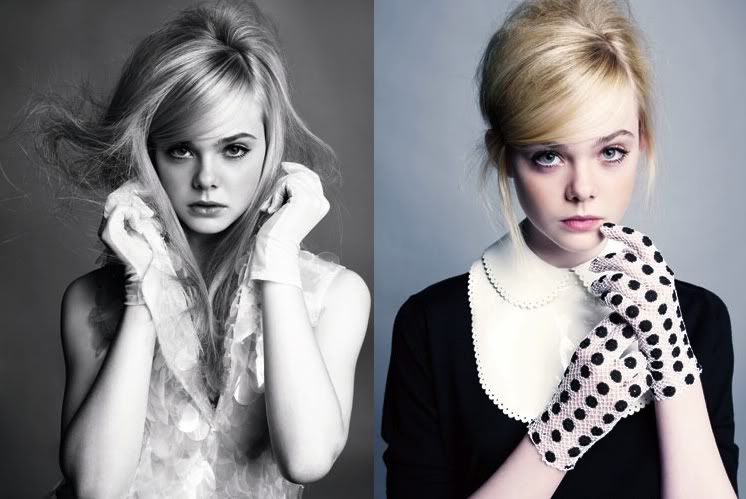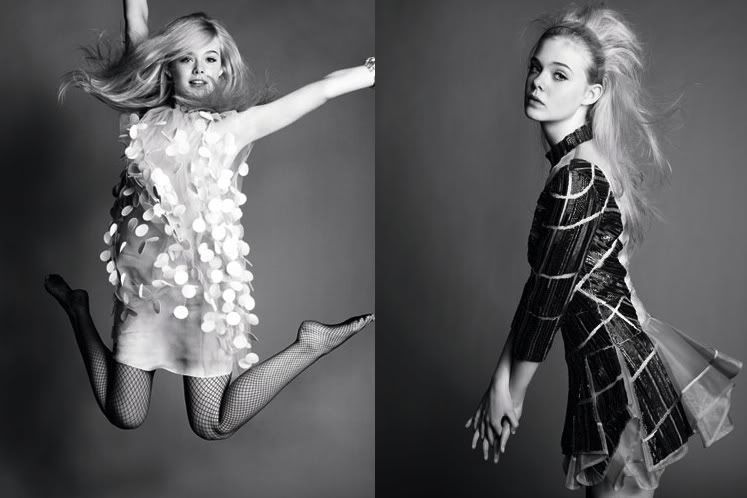 Seeing a couple of these photos appear on my dashboard on Tumblr, I found it hard to believe it was Elle Fanning. Because how can a 13 year old exude more confidence, style, flair and grace than me? I have 7 years on her and she's already got the upper hand. If this is what she's like now, imagine what she'll be like when she turns 18. All things aside, I absolutely adore this editorial in Marie Claire - she looks fresh faced, sophisticated and absolutely stunning. Gosh she even looks like a model especially in that shot in the fuchsia Lanvin dress with the mesh headpiece.
I'm actually starting to favour her over her older sister Dakota. Not that I've seen any of her work. She just has this sort of baby faced, old school blonde bombshell look, especially in these black and white images - very Brigitte Bardot/ Twiggy. But the coloured images are my favourite in this set, especially the one where she's wearing all gold. So chic. I was reading Tom & Lorenzo the other day and they were discussing these shots and some of her other editorials particularly in Blackbook magazine, some readers saying a thirteen year old shouldn't be all made up, wearing high heels and designer clothing. I don't think she's being sexualised at all, not in this Marie Claire editorial anyway. I think it's hard to not look the way she does in these pictures - she's featured in a magazine aimed at adult females not girls her age. It's high fashion. And it's not like guys will pick it up to read it anyway. And
if you compare her to some of the young celebrities out there. She's not running around in cut up singlets and denim shorts at parties and mixing with older people. She still very much maintains her integrity in an industry where its easy to succumb to such pressures.



Sure she may not look her age in this shoot, but I don't think she's trying to act like someone she's not. And that's the most important thing right? She's just a thirteen year old dressing up in expensive clothes, getting dolled up and having fun.