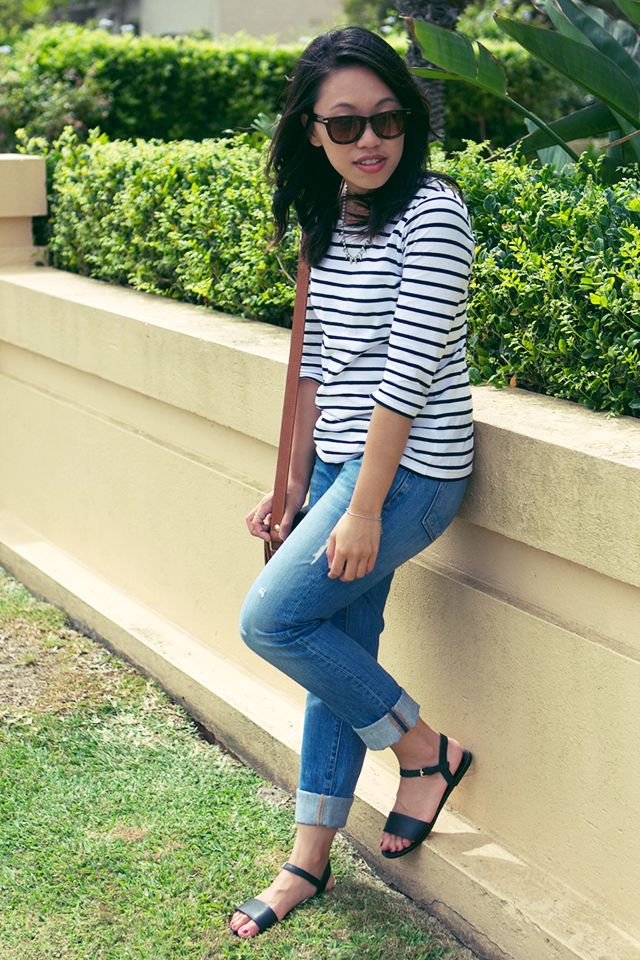 Outfit number three and I'm motivated to maintaining my resolution. My striped breton, boyfriend jeans, cross shoulder bag and sandals have been on high rotation throughout January. Yes I know this look would translate 100 times better on Miranda Kerr, but hey I'm doing the best with what I've got. It's funny because after looking at the
product description on Shopbop
, I realise the distressed patch on my knee is really supposed to hit mid thigh. Petite power!
I was gutted when my only day off with Jack which we had planned as a beach day ended up as tops of 23 but alas we went to Bondi, ate some burritos and froyo and took some photos. This is just one of those no fuss, mindless wardrobe choices that I'm constantly reaching for went I need to look semi-presentable. Other than that I've resulted to wearing my gym gear while I'm out doing boring things (yes I've become one of of those women) like posting speeding fines, buying groceries and dropping off dry cleaning. It's actually really effective because part of the pain of going to work out is getting ready so at least if I'm dressed for it I'm half way there.
What's your no fuss outfit?